Jeep Electrical issues
Jeep Electrical issues, no one likes chasing those gremlins. Here I go though different fixes, mods and scenarios that can arise on a Jeep Wrangler.
OK .. it's not just about the work. There are cool modifications that can be added. Mods such as head light upgrades (all YJ's and XJ's need that!). Custom off road lights and/or interior lights. Using different switches and relays, also how relays work and what to use them for.
Jeep Electrical issues with the Jeep
No secret that Wranglers that have been used and abused have electrical issues. It's not really that the Jeeps aren't solid because they are. It's simply the fact that when they are used as a toy getting water and mud into every orifice the poor machine has. Poor electrical contact issues are going to surface eventually. If it doesn't, count your lucky stars!!
This is what most people call the "push button starter switch" conversion. I used a momentary toggle switch instead because that what I had at the time. I later upgraded to a cool push button set up. Click here for more ...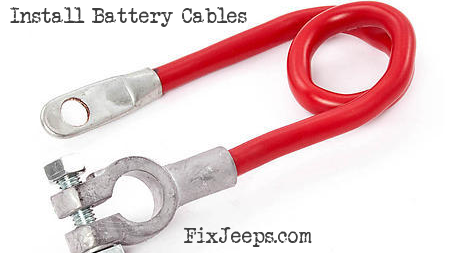 Fact ... the condition of you Jeeps battery cables can either make a great day. Or a constant headache. Bad cable can seem like a dead battery when its just a bad connection. Click here for more ...
Electrical mods for the Jeep
Jeep Wrangler electrical modifications for upgrades are needed a plenty!! As much as the YJ's and XJs are rugged and fun. They are seriously lacking in electrical accessory performance.