Jeep Transfer Case
Jeep transfer case maintenance is actually easy. Change the fluid when needed and make sure there are no leaks, pretty much it.
Jeep Transfer Case re-clock
This transmission that was installed in the YJ came from a 1995 Cherokee. The rear transmission tail shaft housing needs to be re-clocked to put the transfer case in the correct location for the Wrangler. The Cherokees clock the case downward about 10° therefor hitting the skid plate on the Wranglers. One option is to trim the skid plate to clear the drop but why do that when re-clocking the t-case is actually very easy.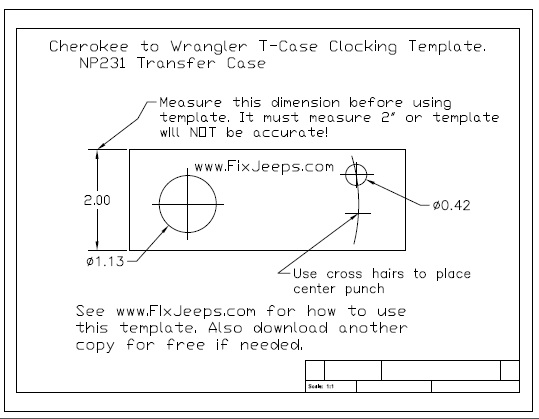 Here is a downloadable/printable template to help locate the new holes to re-clock the transfer case in the proper location.
NP231 Transfer Case Extension housing replacement
The straps on the rear universal joint stretched and turned loose the drive shaft. Lots of noise as it beats the bottom of my Jeep until I step on the clutch to make it stop. As I reach under to get the driveshaft out I noticed the transfer case extension housing was broken. The drive shaft flexed the output shaft enough it snapped the housing. No big deal, I pull the drive shaft off the output shaft. Throw that and the broken piece of the housing in the Jeep floor. Put the t-case in 4 wheel drive and cruise on home as a front wheel drive. Well, my misfortune is your education as I demonstrate how to change the housing. Also, I converted the rear differential yoke to U-bolt, ditching the weak thin straps.