Jeep posi lok
Jeep posi lok is a modification that removes the VERY unreliable vacuum actuation part of the Central Axle Disconnect (CAD). Leaving you with a manual cable control that you know that the the front axle is engaged when you need it. Whether you build your own like I did or buy the kit, it's a very much worth while effort. If yours is not engaging like is should, or in some cases it will not fully disengage. Do the mod as soon as you can. Yes you can go buy factory replacement parts. But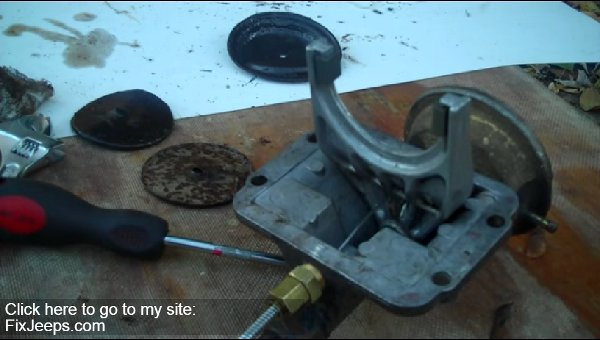 A couple of times that the factory CAD left me in a bad spot. Stuck in a mud hole once. The other time it failed me I had broken a u-joint on the highway. I got out and pulled the rear drive shaft, put it behind the seat. Pulled the transfer case shifter to lock in the front diff... I had nothing. If it had engaged like it was supposed to I could have gotten the Jeep home in front wheel drive.

One option is you can purchase a kit that comes with all the needed hardware. No piece/parting, hacking and modding. Just bolt it in and call it done.

The Posi-Lok part number shown is for my 1991 Jeep Wrangler YJ. So if you have something different, you may want to verify the part number before placing the order.
Jeep posi lok from hardware store items
Although you can buy the kit. You can also go total modder and fabricate one from a lawnmower cable like I show in this video. I tapped threads into the CAD housing to screw the compression fitting in. After tightening the compression ferrule around the cable sleeve, the sleeve was locked down securely. Covering the sleeve in a section of heavy vacuum line, putting lots of RTV sealant in the CAD end makes it water proof. I've submerged the axles a few times and haven't gotten any water in the housing.
Parts I used:
Lawn Mower Throttle control kit. I really suggest getting a universal manual choke cable from an auto parts store. It's a much longer cable giving you more options as to where to locate it inside the interior. The mower throttle kit worked but was a bit short not giving much option as to where to mount it inside.
1/4" compression - to - 1/4" NPT male pipe thread
Heavy wall rubber vacuum tubing that slides over the metal cable sleeve
RTV sealant